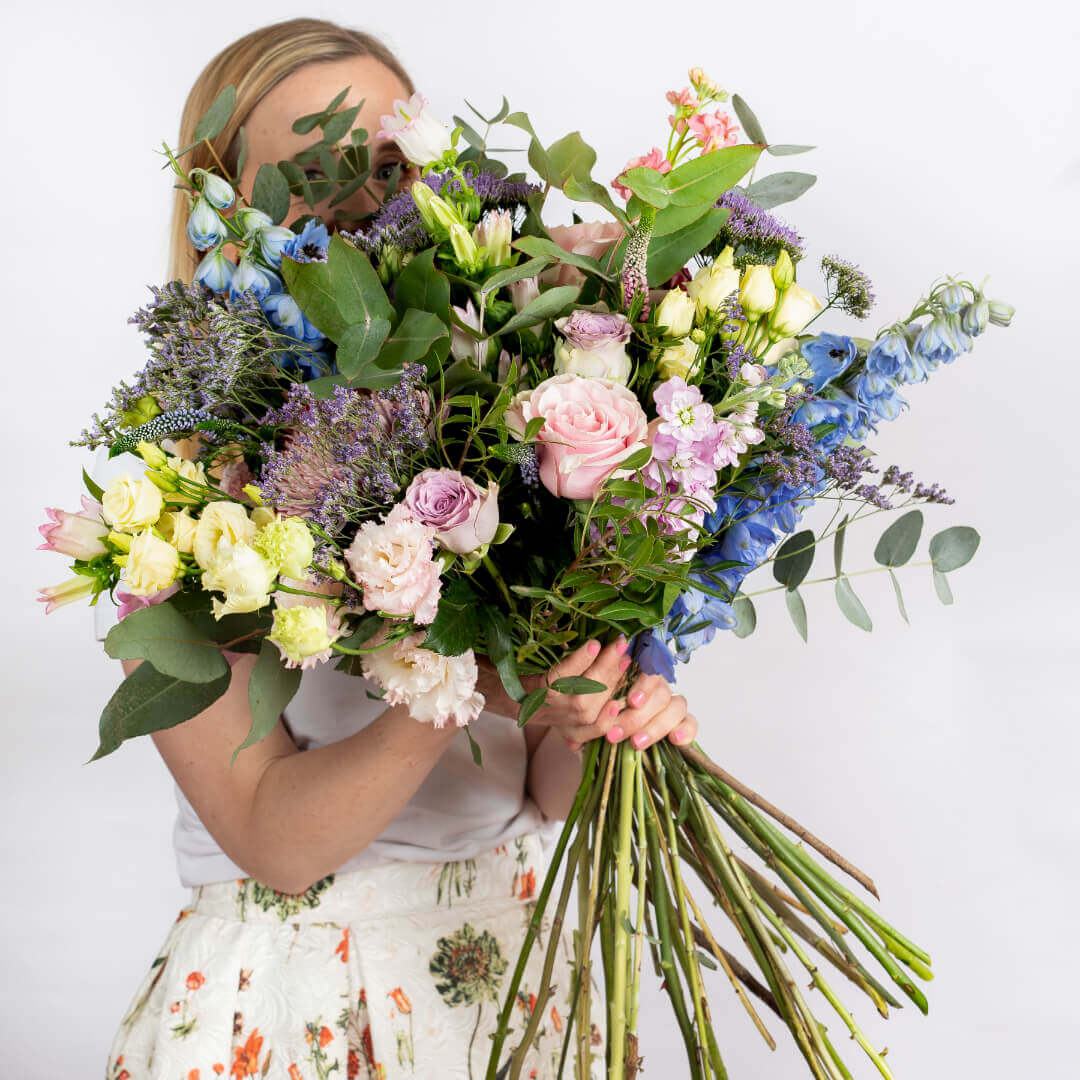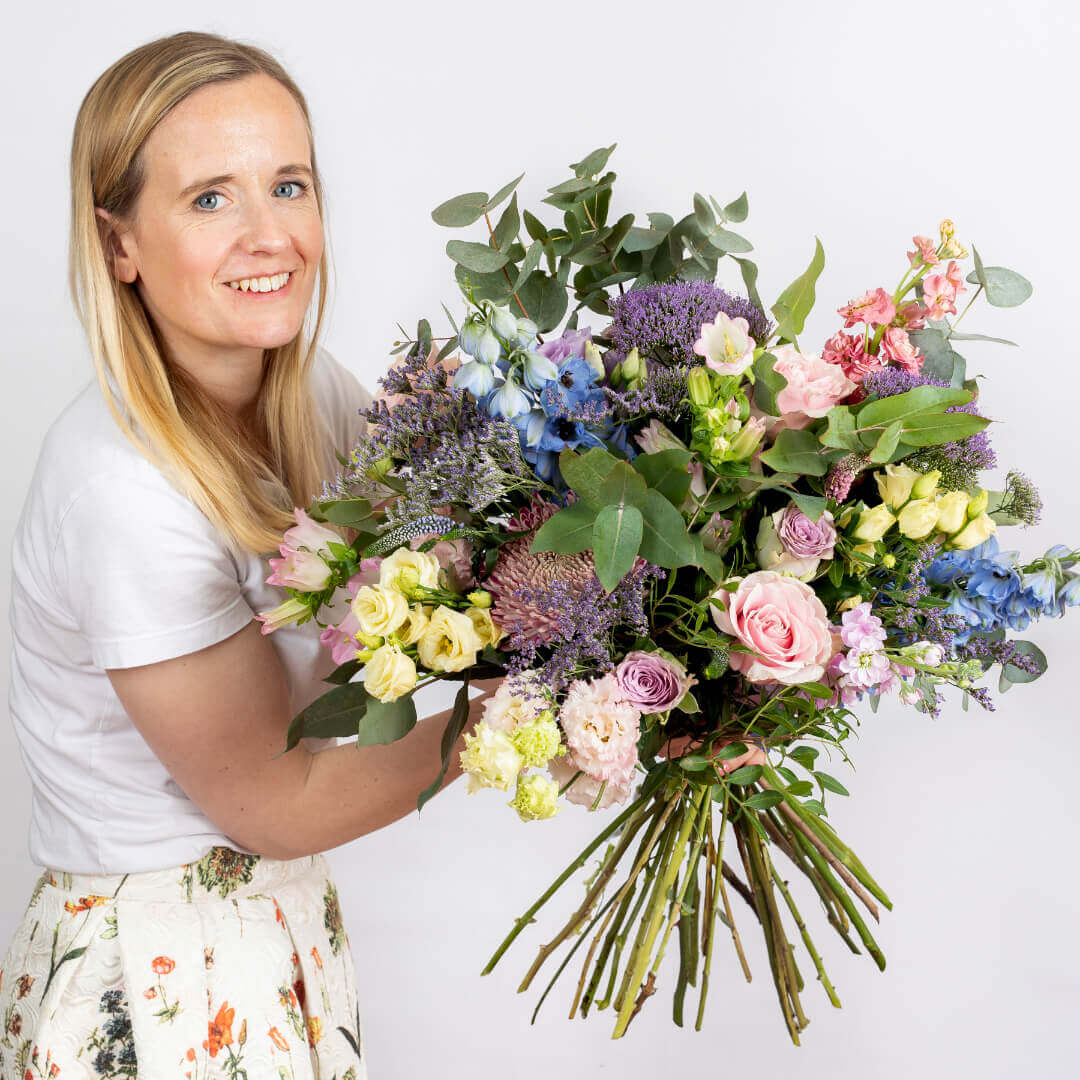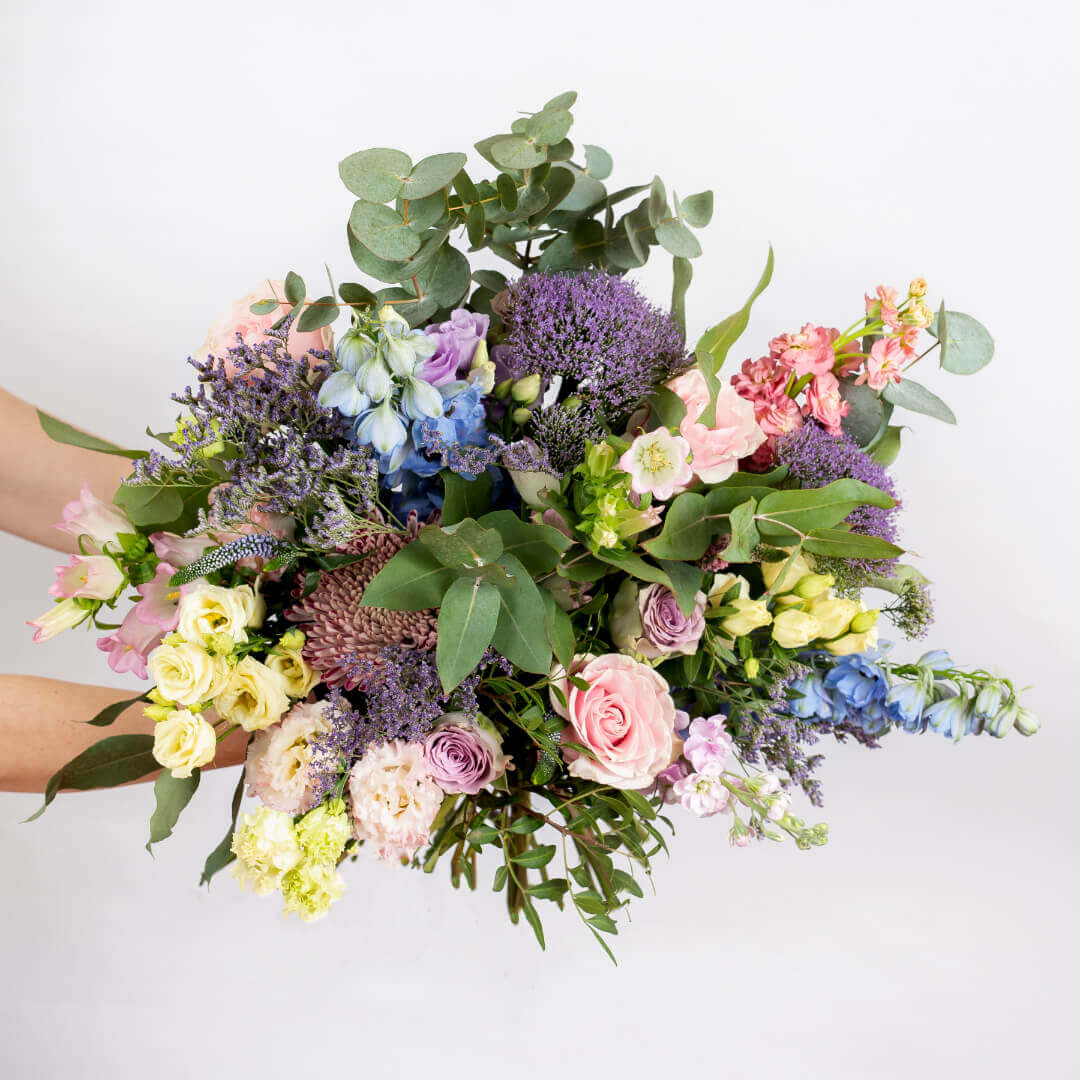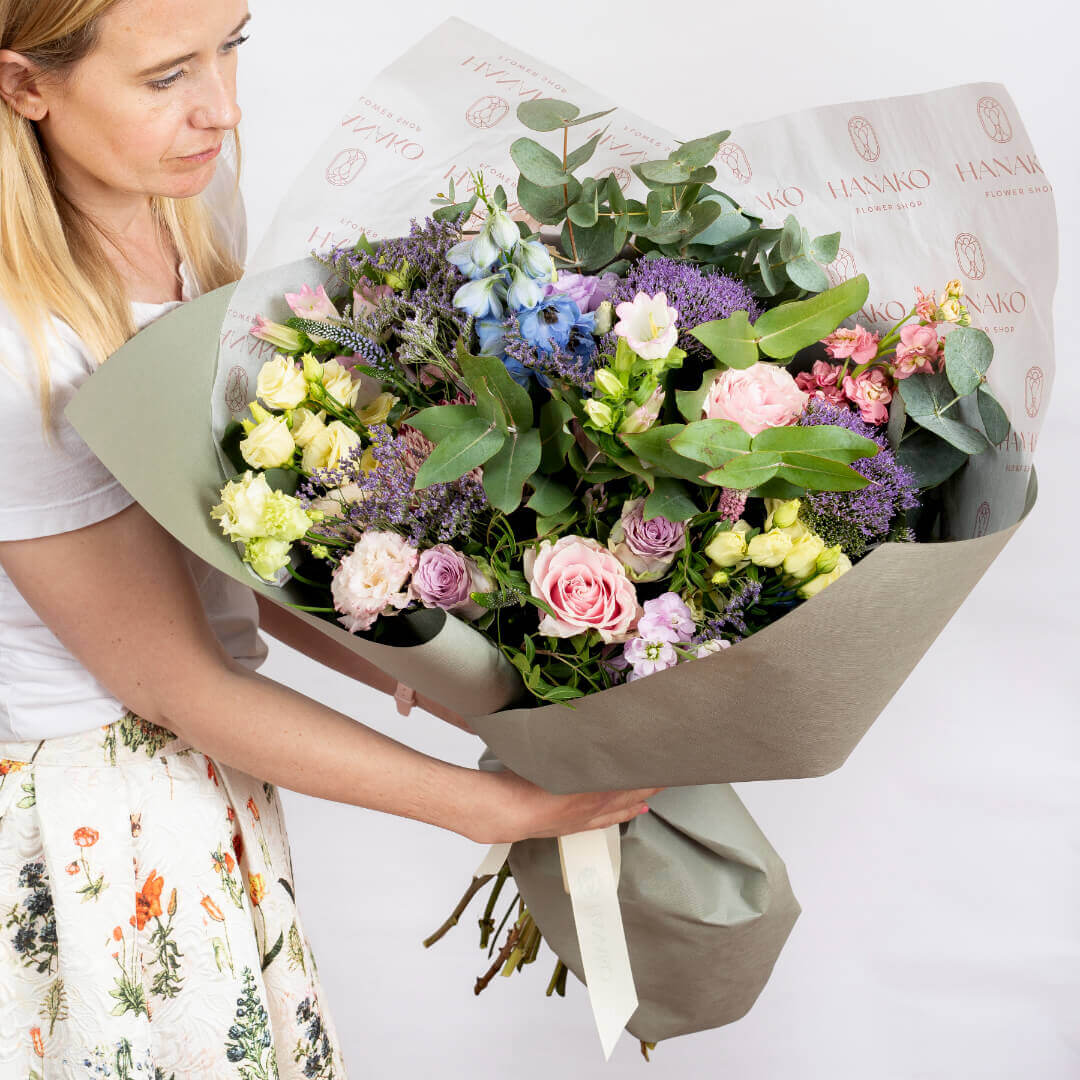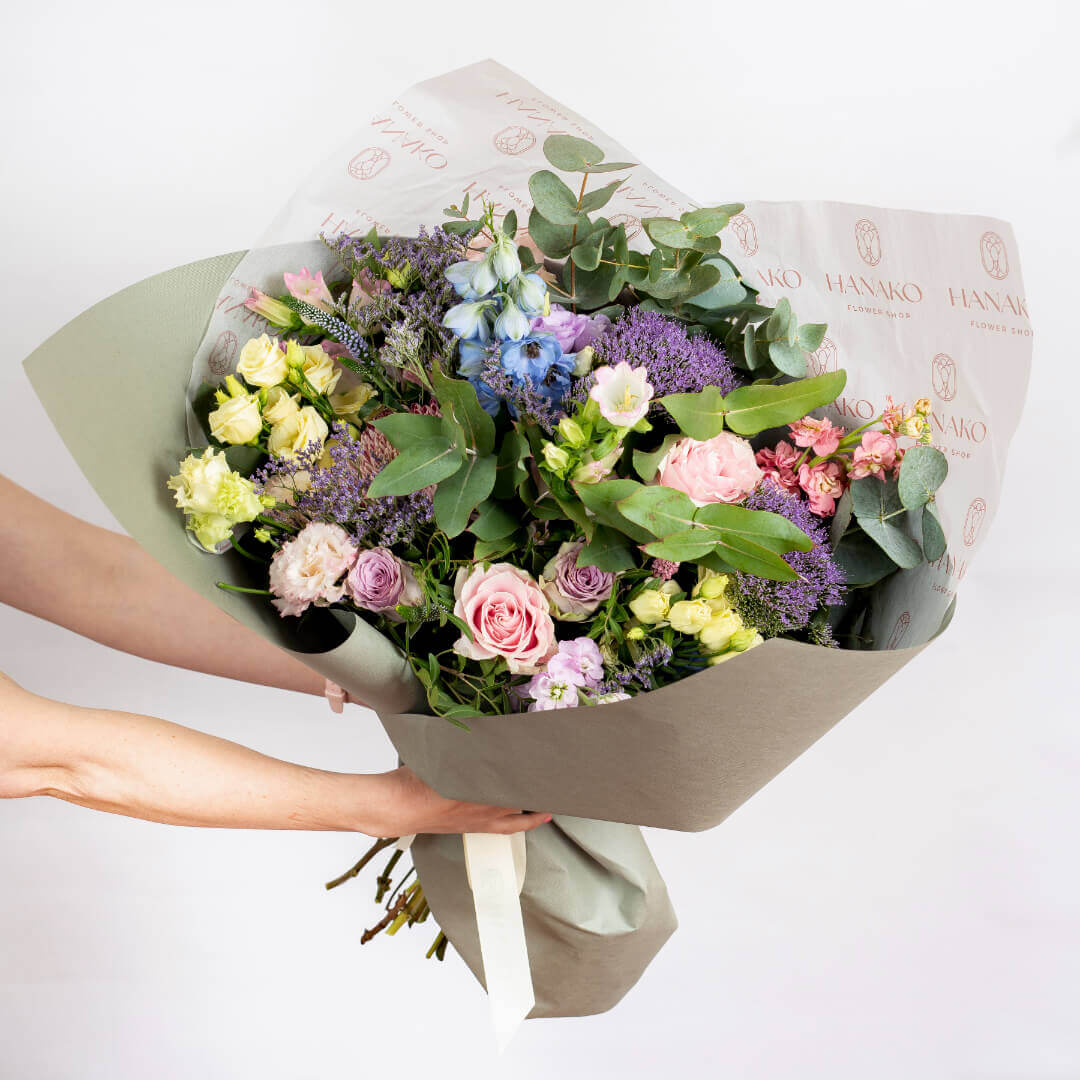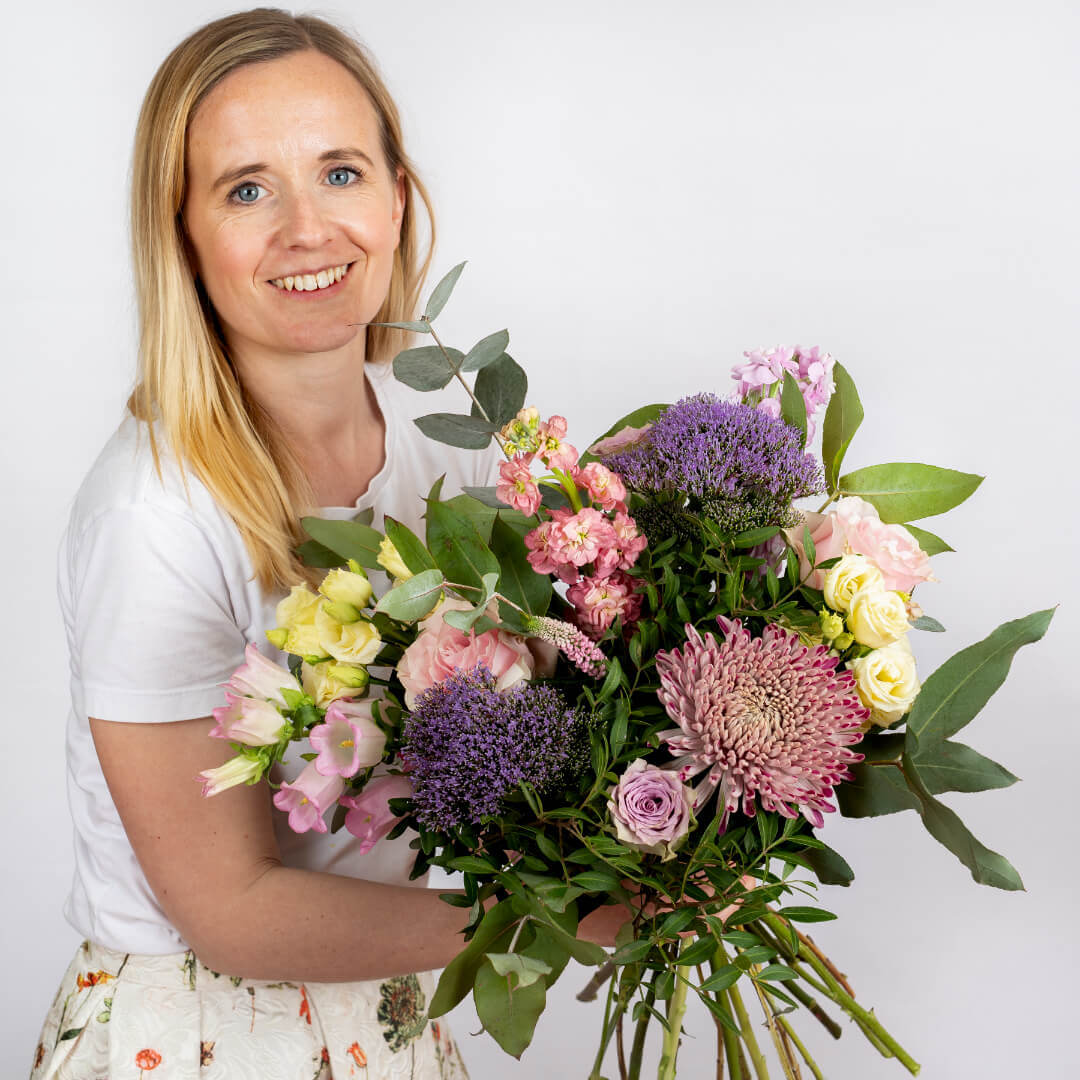 Pastels
Please select your preferred size:
Please select your preferred size
Free delivery to Berkhamsted, Northchurch & Little Gaddesden
Our Florist Choice bouquet range allows you to enjoy a full spectrum of seasonal blooms in one gorgeous bunch.
We always opt for the more unusual variety of a flower, ensuring your bouquet feels special. 
The flowers will change seasonally, but for our Pastel bouquets, we'll stick to the soft colour palette of delicate textures and aromas created by the likes of Roses, Lisianthus, Stocks, Waxflower and Limonium.

Pastel tones convey the feeling of Spring, echoing the sentiment that comes with the change of season and regeneration.

It's a colour palette to be enjoyed all year round and has become a best-seller at Hanako Flower Shop!
Delivery Areas
Hanako hand-deliver to Berkhamsted and the surrounding area within a 6-mile radius. This includes Berkhamsted (HP4), Hemel Hempstead (HP1 and HP3), Chesham (HP5) and addresses in south Tring (HP23). If ordered before 2PM we can deliver to you that same day.
We offer national next day shipping to everyone outside the 6-mile radius. For next day delivery you must order before the 2pm cut off period.
Delivery Costs
Delivery within 1 mile, including Berkhamsted, Northchurch & Little Gaddesden, is free. For the surrounding area and beyond is £7.99.
Delivery Times
National delivery is available
Monday – Saturday. We cannot guarantee the exact arrival time on the day of your delivery. Please also note that as our Florists do not work on a Sunday, any Monday deliveries are picked up by our courier on the Saturday prior.
As part of our commitment to reducing our impact on the environment, we have limited our local hand-delivery hours to ensure the van is not constantly on the road.
We therefore hand-deliver between 3 pm and 6 pm on Monday- Saturday.
Refillable Vases – Those with a refillable vase subscription will receive the top-up bunches on Thursdays.
Flower Subscriptions – Those with flower subscriptions will receive their bouquets on Fridays.
Click & Collect
We also have a click and collect option for those who would prefer to collect their order from the Florist.
Simply place you order and select the date of which you'd like to collect your arrangement and your bouquet will be ready for collection.
Returns and Refunds
Our bouquets and plants are living things, so it's essential they receive the recommended care advice that we include with your purchase.
Because of the perishable nature of our goods, we ask that any complaints be made within one working day.
We use only the freshest buds to ensure your bouquet stays bold and beautiful for at least seven days following delivery.
To help your bouquet stay vibrant:
Unwrap the aqua pack and eco wrap.
Either keep your stems tied or release the string to rearrange.
Snip 1cm from the end of the stems every few days at a 45-degree angle.
Place in fresh water and replace it every few days.
Keep out of direct sunlight and heat.
Your bouquet will arrive wrapped for protection and with everything, it needs to stay fresh before you pop it into a vase at home. As a florist that strives to exclusively use eco-friendly packaging, everything your bouquet arrives in can be disposed of sustainably.
Any plastic water pockets, wraps, cellophane, and tissue paper, are biodegradable and can go into your compost bin, while your care guides, paper wraps and gift cards can be disposed of in your recycling bin.
If your bouquet has arrived with a Hanako greetings card, be sure to plant it for a season-long reminder of your loved one's affection.
Never live a day without flowers with a Hanako flower subscription!
We've made having a flower-filled life easier than ever, with beautiful bouquets delivered straight to your door.
Ideal as a gift for a loved one or a treat for yourself, simply select your subscription frequency before picking your favourite colour palette in the perfect size for you, and your beautiful blooms will arrive at your doorstep.
Our talented team of florists will then handcraft your blooming bouquet and deliver it between 3 pm – 5 pm on a Friday.
Our colour palettes include The Vibrants: a bright, bold display full of colour; The Nudes: a classy arrangement of neutral tones; The Pastels: a subtle, soft palette of delicate tones; and Florist's Choice: a different colour palette each month.
With each arrangement comprised of only the freshest, seasonal blooms, no two bouquets will ever be the same.
Start your subscription today.
Disappointed with size
For the price we paid, we did not think it was an extra large bouquet. The picture I was sent by my friend did not look like the extra large bouquet advertised. The flowers were beautiful thank you, but I wished it was a bit grander.
Just wonderful
What can i say these flowers were just so beautiful and my me friend loved them. Such wonderful arrangement. Thank you so much
Pastels
The flowers are very classic and they last longer
The Perfect Gift
The flowers were absolutely beautiful, very well received and put together with care. Quick responses to questions and keeps you updated about your order. Highly recommend.